Gryffindor is one of the four houses of Hogwarts School Of Witchcraft & Wizardry. Gryffindors embaltic colours are Scarlat and gold .Nicholas De Mimsy-Porpington 'Nearly-headless Nick' is the houses ghost Nearly-Headless Nick Was a gryffindor himself. To be a Gryffindor You would need Nerve, Bravery and Chivalry. Minerva McGonagall is the house's most recent head of house.
To enter Gryffindors common room you will need to 

g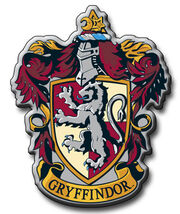 o to the Seventh floor and say to the Fat Lady who
is a woman in a pink robe which is a portrait a 
Regularly changing password  the common room has a 
fireplace and two sets of stairs leading to the 
Boy's and girls dorms.

Notably, Gryffindor house contributed many members to Dumbledore's Army and the Order of the Phoenix. According to Phineas Nigellus Black, members of other houses, particularly Slytherin, sometimes feel that Gryffindors engage in "pointless heroics". Another Slytherin, Severus Snape, considered many Gryffindors to be self-righteous and arrogant, with no regard for rules.
However, this may be taken with a grain of salt, as Gryffindors and Slytherins have shared a fierce house rivalry since their founders, Godric Gryffindor and Salazar Slytherin, respectively, had a severe falling out over Slytherin's emphasis on blood purity. There might also be an element of jealousy; since the sorting of Harry Potter into Gryffindor, the house received a certain amount of publicity that they hadn't had before.